If you walked past the Empire State Building on the night of September 28, you could tell something big was happening close by. Only a few feet away, at an after dinner soiréee hosted by This Group and THIS SPACE, the floor was popping with some of the trendiest influencers and the most fire brands from the four corners of NYC. The champagne was flowing, the DJ was spinning, and new collabs were being shooked on!
Whether you were from the Bronx, Queens, Manhattan, Brooklyn, or even Long Island, nobody cared. 307 West 36th Street, 13th floor, was the place to be for content creators and brands in THIS GROUP's corner. 
So, we put on our most snatched sneakers on and pulled up! And as one of the event's proud sponsors, our vibe check only confirmed what everybody else was feeling: that this night was one for the books!
THIS GROUP, a renowned NYC-based influencer marketing agency, was celebrating the upcoming opening of its new creative space, THIS SPACE. Some of the coolest brands it works with were among the guests: Fratelli Beretta, G-SHOCK, Dropp, ELITE, Patrón, D'Ussé, and more. And top influencers like Chicklet.HF, Maleni Cruz, Devonte Magic, MrCommodor, and KenStarrrz were alo present.
What's THIS SPACE?
THIS SPACE was created by two of the founders of THIS GROUP Inc. Donavan Mcleod and Myq Rodriguez, to provide influencers and brands with a unique creative space. In the heart of Queens, rulers of content and brands can meet at this innovation hub to come up with the best ideas and produce content on the spot.
THIS SPACE is equipped with the space and  tech needed to produce content in its recording studio for videos, podcasts, photoshoots, etc. It's also where the magic happens for some influencers looking for their next collab.
Why THIS SPACE?
More brands and platforms understand the importance of partnering with content creators to reach bigger niches with tailored, engaging social media content. And with the creator economy taking over the field of digital marketing, more collabs are being created on the daily! 
THIS SPACE stems from the phenomenon of content houses or collab houses. In 2014 five content creators lived together in the 02L Mansion, producing and shooting videos for the O2L YouTube channel. Since then, hundreds of content houses have popped up, the most famous one being the Hype House in California, where tons of TikTok videos see the day. 
Similarly, THIS SPACE is all about providing creators and brands with a location to fuel their creativity and produce content with the best equipment at hand.
So who walked the influencer red carpet?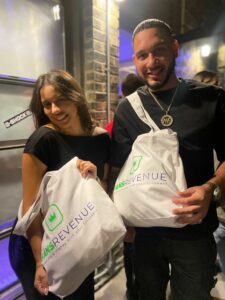 Marie-Josée Elchab, our talent recruiting expert, was on site and shared drinks and merch with some of the top content creators FansRevenue's had the pleasure to work with!
Yep! Some key players behind the success of BlueChew's influencer marketing campaign were there, including brand ambassador Chicklet.HF, his partner Maleni Cruz, IG comedy celeb MrCommodore, and marketing magician Devonte Magic.
THIS SPACE will soon be open to the public and available for your upcoming collabs. So if you're in the Big Apple, stop by to check it out!
Congrats again to This Group and THIS SPACE on this epic night!
Looking for your next influencer marketing opportunity? We've got just the thing! Contact our fire team to learn on monetizing your audience and access top brand partnerships as creator with FansRevenue!