Welcome to Personal Branding 101! 
To all the digital creators out there who are just starting out, you've got some branding to do!
Why do content creators have to worry about branding? Isn't it left to marketers, corporations, businesses, and celebrities of this world?
Nope! Not in this digital day and age. There are millions of content creators and influencers in the world– 500,000 active influencers on Instagram alone — and no matter how talented you are, you need to stand out. You must have your own identity on the web. That's what personal branding is all about.
Creating engaging content on social media is one thing, but shining as a creator is another. With a personal branding strategy, you will be equipped to leave memorable impression on your audience.
What is personal branding?
"Your brand is what people say about you when you're not in the room," said Jeff Besos, Amazon founder. It is the very perception of you and your entire content. Your brand is present in every single post you publish, every story you post, every piece you write, and every video you produce. It is built over time and it becomes what shapes people's view of anything you have to offer.
Why is it important to have a personal brand?
Your brand is what makes you you! It allows people to recognize your content even if they weren't looking for it. A personal brand is not only synonymous with identity, it is strategic uniqueness. Because of brands, we can distinguish between similar products or services and choose the ones that seem more evocative to us.
For instance, think of Coca-Cola and Pepsi. Think of the colors and images that come to mind for each brand. Notice that they aren't the same, though the product both companies sell is very similar. Both companies create different perceptions with their colors, logos, ads, etc.
It should be the same thing about your personal brand. Your followers must have a clear idea in mind when they think about your content, no matter how similar it could be to someone else's.
The 3 Fundamentals of Personal Branding
Let's get practical. How do you create your own personal brand? Here are the three main ingredients you need for a successful branding operation: originality, authenticity, voice.
Originality
What makes you unique? Do you have any quirks that your friends keep pointing out? Do you have a weird sense of humor? Even better, do you have a special talent that you could merge with your content–photography, dancing, acting maybe?
Research content creators you follow. What makes them particularly different from others? You'll notice that they each have a little sumthin sumthin that draws people to them. So your first challenge is to find that special ingredient that will draw people to you.
Authenticity
Look no further: your brand should be a reflection of who you are and what you value. It cannot be in contradiction with who you are. Nathalie Elizabeth Ellis, cofounder of Bossbabes, said that "people buy from people." You are the center of your brand, so it should look like you in order to resonate with people who, in some way, are like you.
Allow yourself to show your struggles, especially in the beginning. Share your challenges as a creator, and your successes too. Use your own words, your idioms, and make sure that the layouts, colors, and sound effects are all things you like. And if you ever start some influencer work, make sure that everything you promote aligns with your personal brand.
Voice
How do you want your content to be remembered? Your voice is where medium meets talent. The medium is the tool you use to communicate your message. Your talent is what will seal your message. Talent propels your voice to another level. For instance, if you're great at creating fire visuals for tutorials, then use it for your YouTube channel. Use whatever you're best at to transmit your message in a unique way, whether it's music, drawing, cooking, journalism, humor, etc. The crazier the better. 
Remember there are thousands of digital creators out there. Pick an angle that hasn't been explored before. Use new tones, interesting visuals, and surprising props to propel your message. Before you know it, you'll have more followers than you ever thought you could reach.
The #R3MAT Method
The R3MAT Method is a personal branding strategy used by top digital marketers to curate content. R3MAT stands for the right message to the right audience at the right time. Let's take a closer look.
Right Message (M)
Think of the top 3 values you wish to communicate with your content. Then, select 3-5 content pillars. Your content pillars will be the main categories of content you decide to explore with your brand. 
For instance, you want to start a podcast on slam poetry. You've determined that your top three values are love, social justice, and literacy. You decide that your content will be articulated around these four pillars:
interviews with slam poets

anecdotes of you as a high-school English teacher

reviews of slam poetry from YouTube videos

recorded open-mic events in low-income communities
With these pillars, you, the podcaster, would always find new content to work on. Pillars anchor you as a content creator while your values drive you. They are both needed to sustain your message and curate timely content for your followers.
Right Audience (A)
Define your niche. Fing 5 common traits your followers share–even if you only have a few. What is the age bracket? What is/are your audience spoken language(s)? What is their level of education? Are they into reading? Do they travel? Try to narrow it down as much as possible. It will give you more insight into the type of content to curate for your followers.
Once you found your niche, pick the two best platforms to share your content with them. No need to be on all social media platforms. With only two platforms to focus on, you can consistently create without having to dilute your quality to increase your visibility. 
Right Time (T)
First, choose when to post what: be timely, and adjust to whatever may come your way. Second, choose when to engage with your audience (comments, replies, emails), when to tune out, and when to brainstorm for new content. Establish your own routine and timeline to create content, and make sure you stick to it.
Presentation Matters
Yes, your personal brand is your identity in the digital world. But you must also have your own style by which people recognize your content. Select colors, templates, presets, fonts and sounds that resonate with your brand in order to create a cohesive look throughout your content.
Your brand's style has to be so well defined that it can be replicated. People will then be able to recognize your content on the web and distinguish it from other digital creators.
Here's an Example of a Personal Brand
Meet Nathalie Elizabeth Ellis on Instagram. Not only did she cofound Bossbabes Inc.–a website dedicated to building female entrepreneurship–but she created a successful personal brand on social media. Ellis has nearly 250 000 followers, so she must be doing something right. 
Notice the constant pastel colors on her page, the lighting in her photographs, and the tone in her personal quotes. Consistent, right?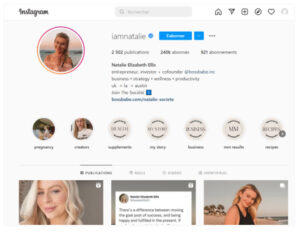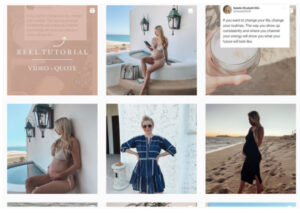 Now that the secrets to personal branding are revealed, take a look at your content so far. Does your branding strategy need a little tweaking? Are your core values reflected in your content? Do you have a similar layout for each post? What about the colors: are they consistent?
Leave no stones unturned. Sharpen your tools and optimize your content and your style to fit with your brand. You'll reach a greater audience, more engagement on your posts, and possibly, some marketing opportunities.
Let's get branding!